Galvanic Facials
Galvanic Facials revitalise the skin by increasing blood circulation, improving muscle tone and firmness, promoting rapid cell metabolism and renewal, and clearing blocked pores.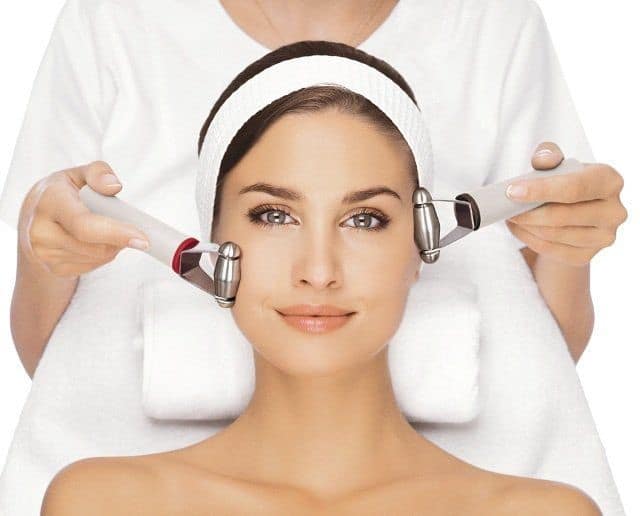 About Galvanic Facials
A Galvanic Facial is a 'non-surgical facelift' to boost the skin without having to undergo surgery or injections. We use a device with a chrome base that conducts the galvanic current directly onto the skin. The treatment helps to improve hydration levels and blood circulation to the face. This results in a radiant, youthful glow, with smoother, firmer skin.
This procedure uses a positively charged gel that is applied to your skin. A negative electrode is either given to you to hold or rests on your shoulder. Then, a positively charged current is passed through your skin, pushing the product deep into the epidermal layers. This will dramatically increase the absorption of all skin products used after the treatment.
This process is where the galvanic current emulsifies and softens the sebum and keratin found in hair follicles. This makes the removal of blackheads and clogged pores painless. The skin gets both a deep-clean and softening.
Other galvanic facial benefits
A Galvanic Facial is good option for hydrating dry skin increasing moisture retention and equally, will help eliminate clogged pores and reduce oils that can lead to acne.
Galvanic treatments improve the production of collagen and new skin cells, stimulates blood flow, increasing the oxygen supply to your face, making your skin feel tighter and look fresher.
Treatment Process – Galvanic Facials
Initial Consultation
Before any treatment, we will spend 10-15minutes carrying out a skin condition assessment, using an analyser device, which enables our clinician to understand the health of the skin including, hydration, thickness and any underlying health issues.
Treatment Plan
Following the consultation, we will prepare a Treatment Plan which will set out how many sessions you might need and the intervals between the sessions. Each Treatment session will normally be around 30-45minutes and covers the following areas:
Face Treatments and Care
We use the galvanic device together with gels to provide a nourishing and replenishing facial massage.
Pre-treatment advice – Galvanic Facials
Do not drink any alcohol during the 24 hours before your treatment. Please do not wear make-up on the day of the treatment.
Galvanic facials are not recommended for people who have a heart condition, braces or who have undergone major, metal dental work.
Treatment Aftercare – Galvanic Facials
There are no known side-affects or allergic reactions to this treatment but if you experience anything out of ordinary after having the treatment, speak to your Clinician or medical practitioner immediately.
To sustain the benefits of the treatment, you can:


Book another session



Buy some products to use at home
How many sessions will I need?
One or regular sessions to sustain the feeling of well-being.
How quickly will I see results?
What will I feel during and after the treatment?
Do I have any anaesthetic?
What is my recovery time and when ?
How long does the procedure take?
A treatment session will take 30-45mins .
When can I go out and resume my normal daily activities?
How long will the results last?
Is the Treatment for Men and Women?
Speak with the clinic today
Call: 01491 756015
Email Us
info@healthiumclinics.com
Our Location
Garden Cottage, Badgemore Park
Henley-On-Thames, RG9 4NR