Waxing
We provide a waxing service for women and men covering all parts of the body.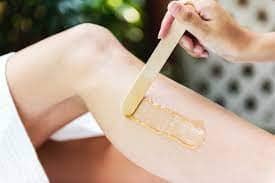 About Waxing
Healthium is pleased to be working with NOON Aesthetics' solutions to deliver impressive results for various skin problems, such as aging skin, sun damage, hyper-pigmentation, loss of elasticity, acne and more.
The product line includes professional products with high concentration levels of active ingredients, which effectively treat the skin without unwanted side effects such as irritation, burning, redness and discomfort, due to the use of the DermShield™ technology.
Treatment Process – Waxing
Before any treatment, we will spend 10-15 minutes carrying out a skin condition assessment, using an analyser device, which enables our clinician to understand the health of the skin including, hydration, thickness and any underlying health issues.
Following the consultation, we will prepare a treatment plan which will set out how many sessions you might need and the intervals between the sessions. Each treatment session will normally be around 30-45 minutes and covers the following areas:
Waxing Treatments
We offer waxing for both MEN and WOMEN and all parts of the body including:


Face



Bikini Line



Hi Bikini



Hollywood



Upper Leg



Lower Leg



Full Leg



Upper Arm



Lower Arm



Full Arm


Front Torso



Back Torso



Clipper Trim
Pre-treatment advice – Waxing
Please do not wear make-up (over the waxing area) on the day of the treatment.
Treatment Aftercare – Waxing
There are no known side-affects or allergic reactions to this treatment but if you experience anything out of ordinary after having the treatment, speak to your clinician or medical practitioner immediately.
To sustain the benefits of the treatment, you can:


Book another session



Buy some products to use at home
How many sessions will I need?
Regular session to keep looking good.
How quickly will I see results?
What will I feel during and after the treatment?
Do I have any anaesthetic?
Sensitivity Period
You may feel a little discomfort but this will wear off.
What is my recovery time and when ?
How long does the procedure take?
A treatment session will take 30-45 minutes.
When can I go out and resume my normal daily activities?
Speak with the clinic today
Call: 01491 756015
Email Us
info@healthiumclinics.com
Our Location
Garden Cottage, Badgemore Park
Henley-On-Thames, RG9 4NR