Compression Therapy with Boa Max 2
The Boa Max 2 medical device is a lymphatic drainage device that utilises state-of-the-art technology to offer a gentle pneumatic technique, used to stimulate the lymphatic system.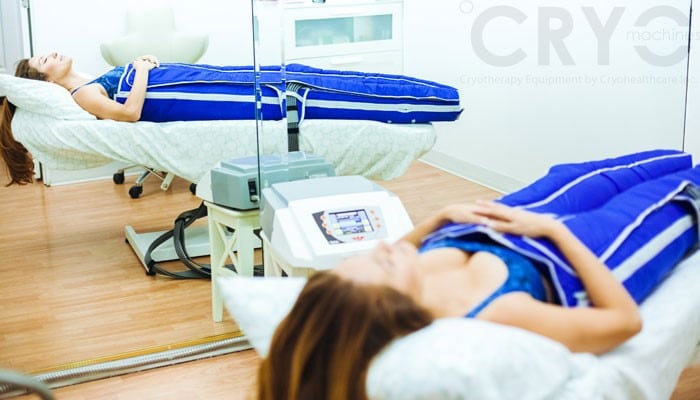 The patient will step inside a compression suit (made up of 24 separate chambers and 12 valves) and lay on a massage table whilst the suit is connected to the controller. The controller has a set of unique algorithms each create a pattern of rhythmical strokes, applying either light or heavy pressure over the body to stimulate the lymphatic system and aid in the flow of lymph through the system.
A choreographed series of movements for lymphatic drainage and compression massage.
A series of strong compressions and pulses in combination to create pulsating massage.
Programmed lymphatic drainage massage used specifically for relaxation therapy, "heavy legs" syndrome, and varicose veins prophylaxis.
Designed for slimming therapy and anti-cellulite prophylaxis.
Lymphatic Drainage is consistent with manual lymphatic drainage (MLD) techniques.
How does the Boa affect the body?
Circulatory System:
Boa peristaltic corporeal massage acts as an "external heart". It enhances blood circulation by gently applying unidirectional peristaltic pressure on peripheral veins. Blood circulation is improved, the elimination of toxins is facilitated, and fresher oxygen reaches the cells.
Digestive System:
Because of the Boa's specific design, it massages the abdomen as well the lower extremities. The result is relaxation of the abdominal muscles and at the same time healthy stimulation of the bowel movements, which in turn improves the effectiveness of poisonous content evacuation.
Lymphatic System:
Boa enhances lymphatic flow in both the peripheral and deep lymph nets. The results are an improved evaluation of metabolic residuals from the interstitial spaces, which in turn has a positive effect on the immune system.
Muscles:
Boa massages the muscles, which clients often describe "as if you have 10 therapists working on you at the same time". The peristaltic movement relaxes the muscle, drains it form excessive liquids that are a product muscle activity, and can calm muscle spasms.
Skin:
The skin benefits from an improved low of freshly oxygenated blood to all skin layers. The skin's elasticity is improved, and it regains a more tone and former appearance. With regular applications, cellulite may be prevented and even eliminated.


After sport



Those that work long hours on their feet or work in labour job roles



Those with circulation problems or poor venous systems such as having varicose veins



The lymphatic system



Post surgery


Chronic oedema



Oedemas of upper limbs, chest and back after mastectomy



Rehabilitation after injuries and contusions



Treatment of lymphatic failure – Lymphoedema



Treatment of venous insufficiency



Prophylaxis of Phlebothrombosis



Various etiology oedemas of lower limbs



Slimming massage and treatments of cellulitis



PDT prevention and elimination
Speak with the clinic today
Call: 01491 756015
Email Us
info@healthiumclinics.com
Our Location
Garden Cottage, Badgemore Park
Henley-On-Thames, RG9 4NR