VARICOSE VEINS (with The Whiteley Clinic)
Healthium is proud to offer varicose vein procedures in conjunction with the ground-breaking Whiteley Clinic. We offer the latest treatments to removal varicose veins and other vascular conditions.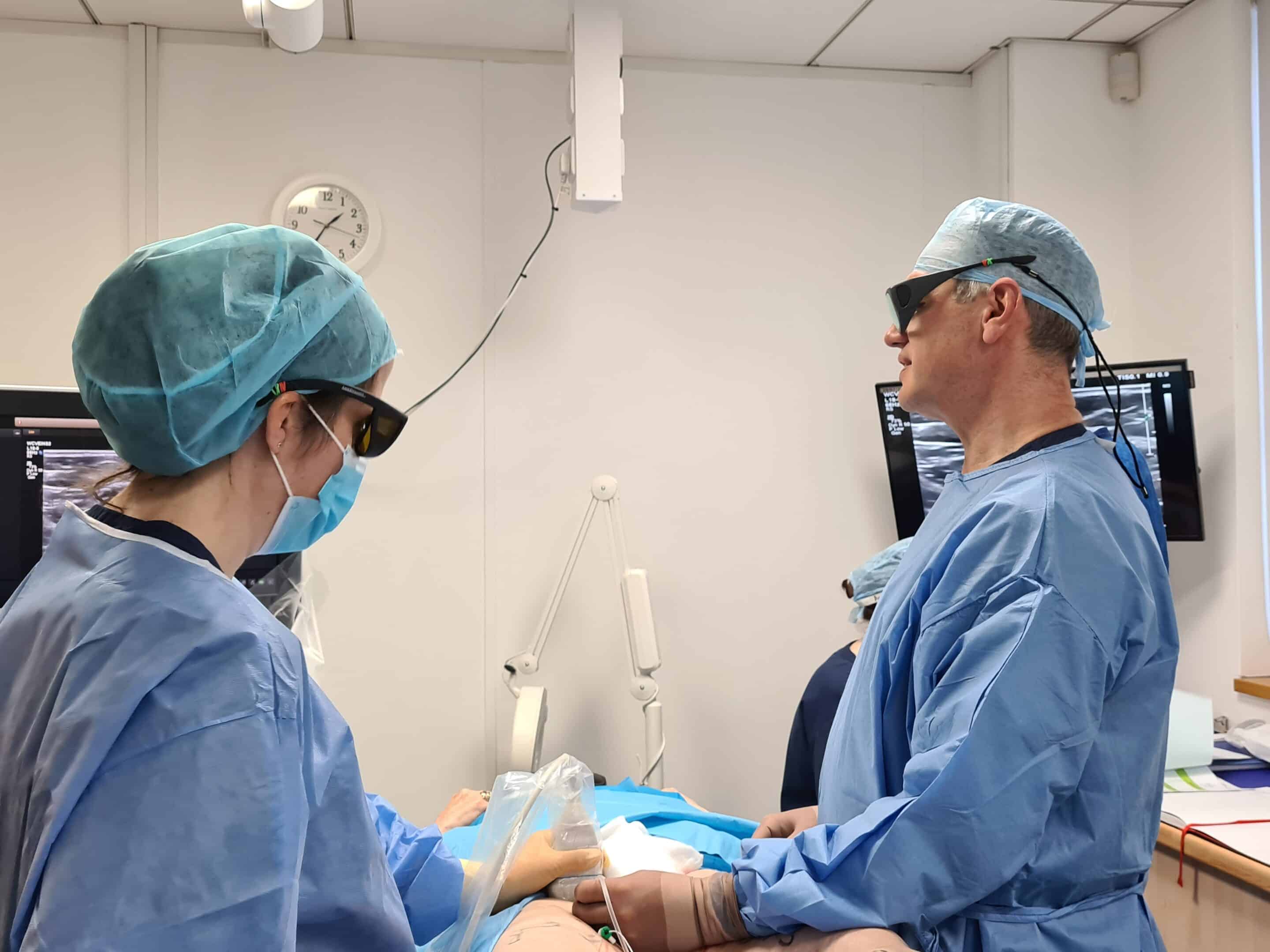 Healthium – Working with the Whiteley Clinic
We are working with the Whiteley Clinic because they provide ever the latest investigations and treatments for abnormal veins of the legs and/or pelvis.
We use a combination of examination, investigation and diagnosis leading to a bespoke treatment plan for every patient.
You will have an initial assessment with one of our specialist vascular scientists and given a full breakdown of your bespoke treatment plan recommended for you, which may include a number of options and procedures.
All our procedures are performed under local anaesthetic as 'walk in, walk out' surgery. This means that, unless there are any exceptional circumstances, patients should be back to work and back to relatively normal activities the day following their treatment.
Our goal isn't just treatment of varicose veins, its treatment with the lowest possible chance of recurrence and the highest patient satisfaction – even in the long term.
Leg Varicose Veins
Varicose veins are most often seen in the legs.
Varicose veins are easily recognized in many people as "bulging leg veins" on standing or sitting. Unlike other lumps on the legs, when lying down, varicose veins will empty and disappear. This is because the veins are filling from underlying veins that have lost their valves, and blood falls down the veins by gravity. This blood falling the wrong way is called "venous reflux". This venous reflux fills the surface veins or "tributaries". When this has been going on for a long time, the walls of the surface veins can stretch, causing the visible varicose veins.
In many cases, the blood refluxing down the leg veins on standing or sitting also causes a "colour change" at the ankle. The skin can appear more red or blue. When lying down and lifting the leg, the blood drains out and the colour goes back to normal. This simple test can be used at home to see if you might have varicose veins or "hidden varicose veins" deeper inside the leg.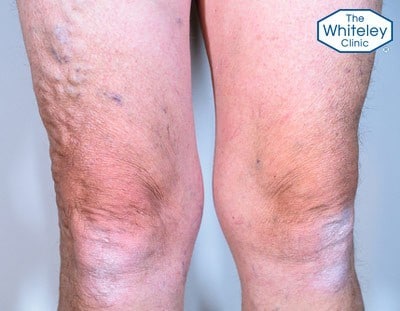 A Venous Consultant will meet you to discuss your symptoms and medical history


HD Duplex Ultrasound Scan
Our specialist Sonographers will perform a comprehensive scan of both deep and superficial venous systems, which takes approximately 1 hour to complete. We will then have a map of your veins and possible causes of your venous condition.


Treatment Plan Consultation
Our Venous Consultants will review the scan results and discuss with you the cause of your venous condition and the treatment options. Once agreed with you, your personalised treatment plan will be prepared, and a quote will be provided.
Treatments 
We treat the following areas:


Varicose veins



Recurrent Varicose Veins



Hidden Varicose Veins



Thread Veins (Spider Veins)



Haemosiderin



Lipodermatosclerosis



Haemorrhoids



Venus Eczema



Leg Ulcers



Phlebitis



Vaginal and Vulva Varicose Veins



Pelvic Congestion Syndrome



Deep Vein Thrombosis



Aesthetic Phlebology (Forehead veins, arms veins, breast and chest veins)
Pre-treatment advice – Varicose Veins
Please ensure that you have eaten and had a drink before you arrive for your procedure. We advise patients to continue to take any medication as normal unless your consultant has informed you otherwise.
Please ensure that you do not put moisturiser or any type of cream on your legs for 24 hours prior to treatment.
We always encourage our patients to watch this video on what to expect during post-operative recovery after varicose vein procedures by Prof Mark Whiteley. https://www.youtube.com/watch?v=Lv5r_zXh7Ao
Treatment Aftercare – Veins
Aftercare is very important, so make sure you're doing everything right by discussing it with your clinician:


Keep mobile - There is a minor risk of complications if you do not mobilise, so please take this into consideration if you have a car journey home longer than 1 hour. We recommend you stop at least once every hour through your journey, so that you can move your legs and have a walk.



Pain or discomfort - The local anaesthetic wears off in about 2-3 hours. Over the counter prescriptions such as paracetamol or ibuprofen can be used, if needed, to aid any discomfort over the next days as your body heals. Please be check any allergies or contra-indications listed on the drug information sheet supplied with these.



Avoid using pain relief gels until the incisions are healed. We do not recommend the use of arnica topical cream or tablets, as the healing process needs to take its course.



Any treatment can be stressful, and it is always best to have someone else to drive you home afterwards and start driving the next day.
Possible side-effects include the following:


Bruising/swelling/lumpiness



Numbness and tightness



Swelling



Pain and discomfort



Redness and heat



Temporary numbness


Intense pain in a localised area of your leg



Hot, swollen, and painful lumps, that are getting worse



Swelling of hte lower leg or whole leg
We ask you to ring the clinic on 0330 058 1850. Outside of clinic hours there is one of our consultants on call for any emergency or urgent care, if required they may ask for you to email photos for assessment or attend clinic sooner than your next scheduled appointment. We are always happy for you to email info@thewhiteleyclinic.co.uk for general advice.
How many sessions will I need?
One or more sessions will be required depending on the severity of your venous condition.
How quickly will I see results?
Post varicose vein procedure, this will be once bruising and swelling has settled down. This is generally 4 weeks. You may still possibly see small little healed incisions.
What will I feel during and after the treatment?
Whilst our treatments are walk-in walk-out procedures, patients can expect to feel some pain, tightness and discomfort during and post treatment.
Do I have any anaesthetic?
Yes, we use local anaesthetic during our procedures.
Sensitivity Period
There is minor discomfort.
What is my recovery time?
You can continue with your daily activities straight after treatment. You may experience inflammation and bruising for roughly 4 weeks.
How long does the procedure take?
Varicose Vein treatment can take roughly 2 -3 hours per session depending on the severity of your veins.
When can I go out and resume my normal daily activities?
Normal daily activities can commence as per usual on the same day as treatment. However please ensure you check with your consultant as certain activities should be avoided to minimise risk of infection.
How long will the results last?
The Whiteley Clinic have the lowest possible rate of recurrence in varicose veins that it is possible to achieve, thanks to their research and treatment developments.
Is the Treatment for Men and Women?
Speak with the clinic today
Call: 01491 756015
Email Us
info@healthiumclinics.com
Our Location
Garden Cottage, Badgemore Park
Henley-On-Thames, RG9 4NR